I'm not a vision board professional, not a life coach, or a creative artist…..I'm an acupuncturist and a yoga teacher who has used a vision board as a tool for many years and found that they have worked for me in a ways unimaginable. Years ago I first heard about the Law of Attraction from the movie The Secret. I started applying the visualization techniques by manifesting little things like green lights and parking spots. I soon noticed that there was something to it. What I focused on became a reality just enough to make me excited to do it more. So, I worked on manifesting a new car. As I drove around in my 200k mile, broken a/c, beat up 3-door Saturn (they don't make these anymore btw), I pictured myself actually driving a beautiful new red Prius, which at that time was waaaaay out of my budget.  Well, fast forward to months later – it actually worked. Instantly, I was a firm believer. Vision boarding became a yearly hobby and after one of my BIGGEST dreams actually manifested and I found myself hugging an elephant in India, I knew in that moment, I had to shout it from the rooftops!
What is a Vision Board?
A vision board is a tool used to help clarify and maintain focus on a specific life goal. Bam! Literally, it's any platform used to display images that showcases whatever you want to be, do, or have in your life. This can be particularly powerful tool for envisioning a new home, a start-up business venture, travel plans, a pair of designer shoes, a major life change, or even an elephant hug.
What is the point?
Creating a platform that displays what you want actually want to bring it to life is one of the best ways to have those things in your face! With the constant reminder, one can then align with those images and words and the feelings they bring about in you. What we focus on expands. When you create a vision board and place it in a space where you see it often, you essentially end up doing short visualization exercises throughout the day. Your brain takes it in and over time you've done 3 really major things:
•Identified your vision and gave it clarity.
•Reinforced your daily affirmations.
•Kept your attention on your intention(s).
How do vision boards work?
Basically, a vision board keeps you focused. No matter what happens during your day, your vision board is a constant reminder of where you intend to be. It works on both conscious and subconscious levels, a vision board keeps your mind focused on your goal, your attention on your intentions, and your life headed in the direction you consciously choose.
Vision board is confirmation you're on the right track. How many times do we oversee opportunities? One of the main ways that my board has served me is that when an opportunity presents itself, I have been more easily able to recognize it and move towards it. More often this happens unconsciously and I can recognize it in hindsight.
Have you heard about the Law of Attraction? If I want a red BMW, I can't keep focusing/disliking/complaining about my my silver honda…..rather I need to treat that car as if it was a shiny red beamer.  Visualization is one of the most powerful mind exercises you can do. Olympic athletes have been using it for decades to achieve peak performance.
So, what's the trick to creating a vision board that works? It's simple: Your vision board should focus on how you want to feel, not just on things that you want.
How has it worked for me?
I took down my vision board recently to update it.  I also spent some time digging through my phone and instagram posts to find real life photos of the things that came to fruition. What exactly do I mean? How about I just show you?
How do I manifest what's on my board?
YOU. HAVE. TO. LOOK. AT. IT.  Acknowledge it. A stare, a glance, a wink. Whatever. Mine got so big that I put it in the garage where I see it a minimum of twice daily. No, I don't meditate on it. NO, I don't stare at it creepily, or anything like that. I just browse. Check out one section as I walk by it and move on with my day. A simple reminder is all that's necessary.
How do I make a vision board?
What you'll need:
1 Poster Board
Scissors
Scrap paper
Glue stick/tape
Marker/Pen
Lots and lots of magazines, any type
Specific photos printed from the internet that are very specific to what you want
Anything else you might want to include on your board
6 Key tips:
Get out of your head and into the creative aspects of your heart. One of the things I notice most is people get too "head-y" about creating a vision board. They want to make sure to do it "right." They want it to be perfect. Life isn't perfect, so release all expectations and let your heart lead the way.  Throw logic by the wayside and TRUST your INTUITION. Don't question why you are attracted to a particular picture.…sometimes I put things on my board that I don't even know why I put on there…..like this little boy (see below). I don't consciously long for a beautiful little South American boy, but the photo gave me the warm fuzzies, so I put it on my board.  Over a year later I realized that I took a trip to Peru with my mom and bonded with the cutest little boy that looked almost EXACTLY like the cut out. I can't make this up, guys!
Be specific, yet remain open. For example, to say "I want to be wealthy" is a great goal, but have you given serious thought to exactly what that means? Try to envision what your "wealth" looks like to you. What does "wealth" feel like? Go dig into your magazines from that place.
Get clear, Dear.  How can you get what you want if you don't know what you want?! Making a vision board is a wonderful way to bring clarity to that general desire and turn it into a possibility.
Focus on what you want, not what you don't want. Be careful not to use double negatives. If the universe had ears it would only hear the key words. "I don't want to be fat anymore" versus "I have a thin and healthy body now"—same idea, different words. Here are a couple more examples:

Wrong

: drink less alcohol — 

Correct

: drink more water. 

Wrong

: stop worrying —

Correct

: restful sleep or calm mind. 

Wrong

: debt-free —

Correct

: financial freedom. 

Wrong

: less tired–

Correct

: more energy.
Include words and phrases. Although photos will make up most of your board, words are very powerful, so if you see a word / phrase / sentence that makes you feel warm and fuzzy…..cut it out and use it.
Ditch organized and compartmentalized. I get asked all the time "Should I arrange my board in sections such as family, health, career, etc?" My advice is to just put your board together in a way that feels right to you. There are no rules in vision boarding.
4 Exercises to get centered:
EXERCISE #1: Burning bowl ceremony
In order to go somewhere we need to know where we're coming from, right? Otherwise, how will you know which direction to go?
Write down 10 things that you are willing to get go of….ready to let go of….wanting to let go of…..needing to let go of.
When you're done, take a moment and reread your paper, take a deep breath, then tear it up into tiny pieces.
Take the confetti you just made and set it on fire. SAFELY! If that's not practical, just imagine it as ashes and throw it away.
EXERCISE #2:  Remember how much of a bad-ass you already are
Use another scrap sheet of paper and for 5 – 7 minutes jot down your most epic moments within the last 12 months. Think of memorable events, achievements, spiritual awakenings, big decisions you made, gifts you received or gave, something you accomplished, big or small….etc.
Next to each, list how you felt during those moments. Use one or two feeling words.
Read them over, take a deep breath, and set this paper aside.
EXERCISE #3:  Guided Meditation
Guided Meditation (inspired by Deepak Chopra, read by Christina Prieto) Live Your Best Life
Take a scrap sheet of paper and write down a few words describing what you felt, saw, thought, and experienced. Set it aside and refer to it periodically when putting together your board.
Make a Vision Board Right Now! There is only one rule: have fun while doing this.
You live in an abundant universe where you can easily manifest your dreams and achieve your aspirations. It is important to be very clear on what you want to¬ manifest in your life.
Start designing the life you want to live. Flip through the pages of magazines, tear out pictures that resonate with you and make you FEEL GOOD.
When you've chosen your pictures, start assembling your board. There is no right way to complete this exercise.
Every thought we think is creating our future. – Louise Hay
___________________
Bonus Tool
Each of the participants who come to my workshop get this check. I've used it personally to manifest monetary abundance. Enjoy writing yourself this check from the universe. GO BIG!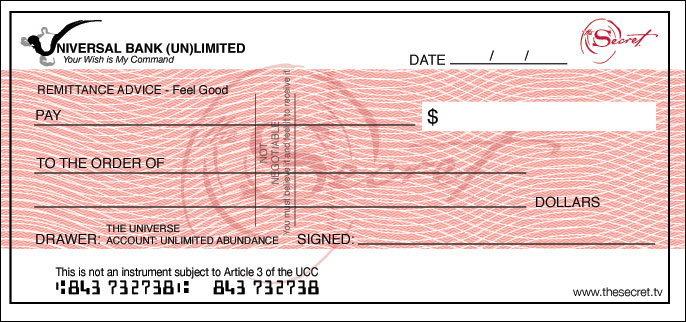 ---
---